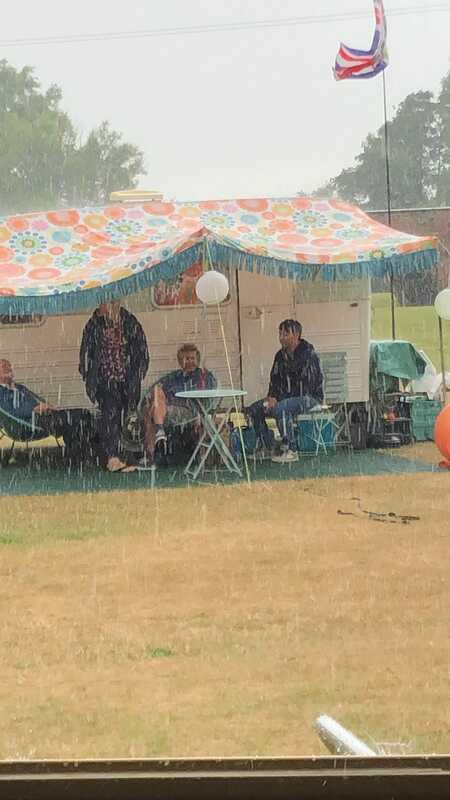 I joined the Retro Caravan Club in 2018. Since joining, I have been fortunate that every rally I have attended has had great, sometimes unseasonally great, weather. I suppose that this had to end sometime and the National Rally and AGM at Smeatons Lakes was that time…

This was my rally! We, as the Committee had determined to try to run fewer but better rallies this year than previous years' 30+ badly attended ones. I volunteered to look after the big one (or so I thought, being overshadowed by my wife's effort at Elton). The "National"! The "Annual General Meeting"! Ooh!
Of course, organising a rally when you live a couple of hundred miles away from the venue is a challenge, so I press-ganged fellow Committee member Lynn Vincent into the early marshalling and parking duties – thanks Lynn.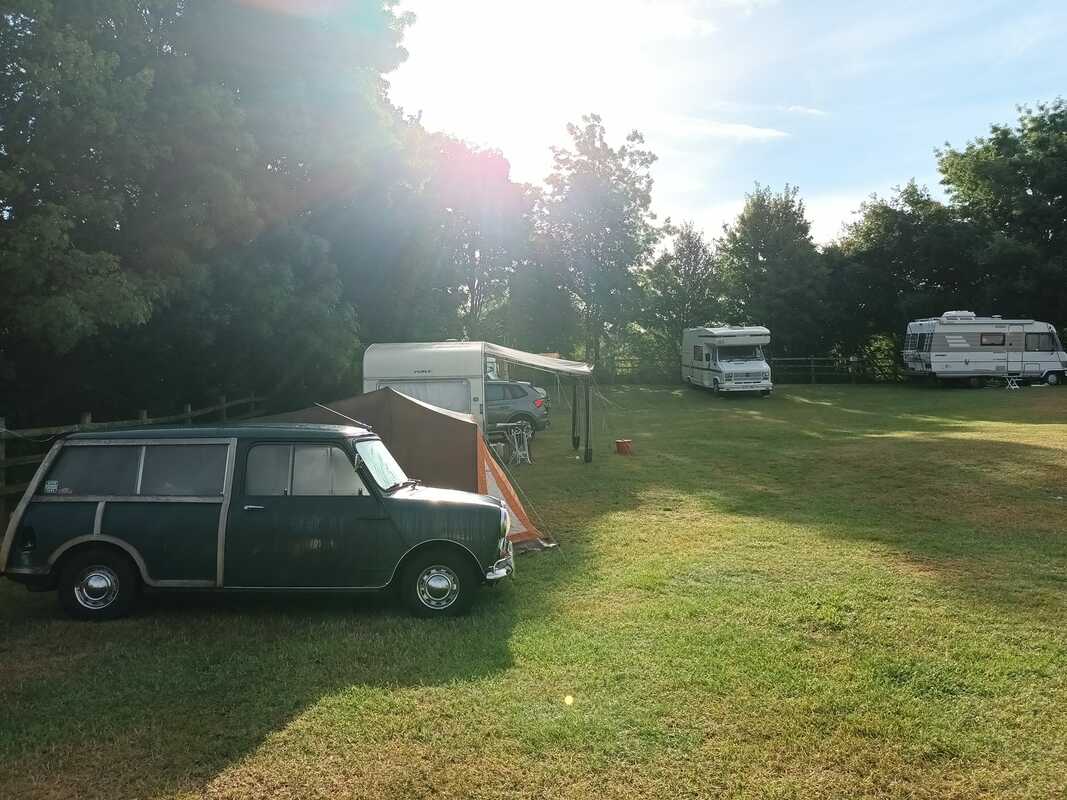 We arrived at about 6 pm on Friday to find an already busy site. The rally field was host not only to our event but also to the motorhomes part of the Camping Club. However, Lynn had made an excellent job of siting the units and there was little for us to do. Friday night was spent meeting people, making new friends and generally setting the world to rights. All good stuff.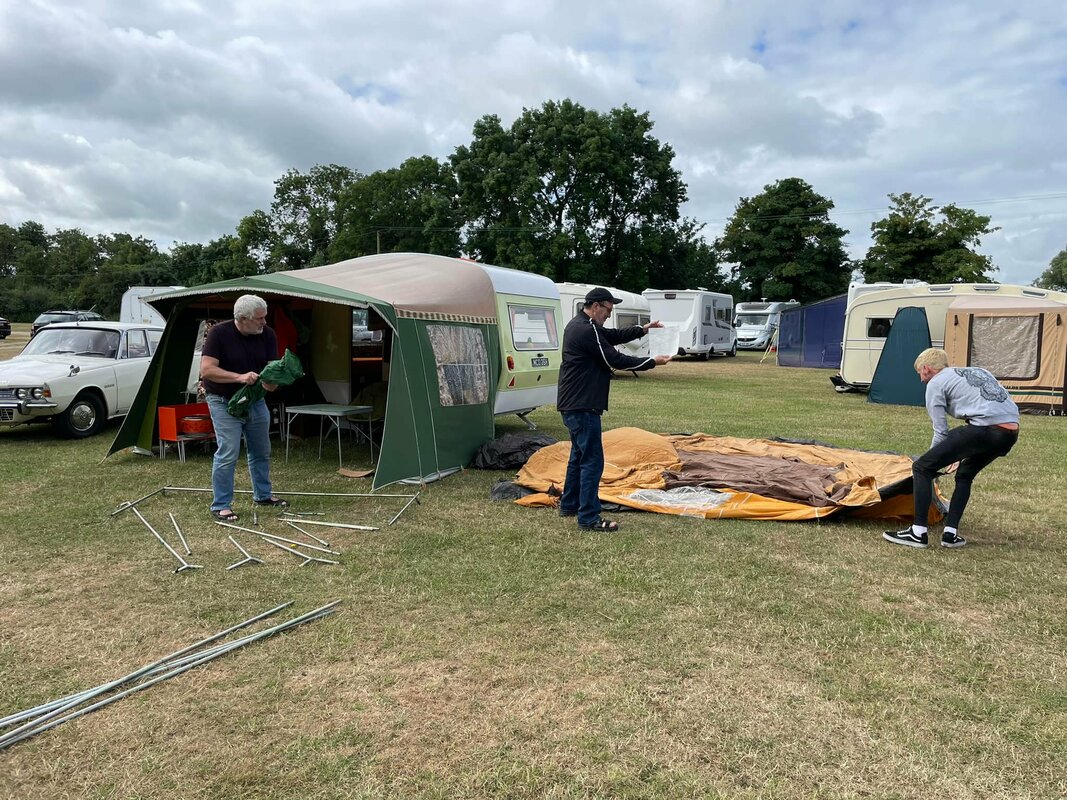 Saturday arrived, a tad damp but with a hint that it might stay dry. No such luck but to save us, Cameron Burns had brought an old, donated frame tent and Heather Downard an even better Coleman event shelter. Many thanks to both.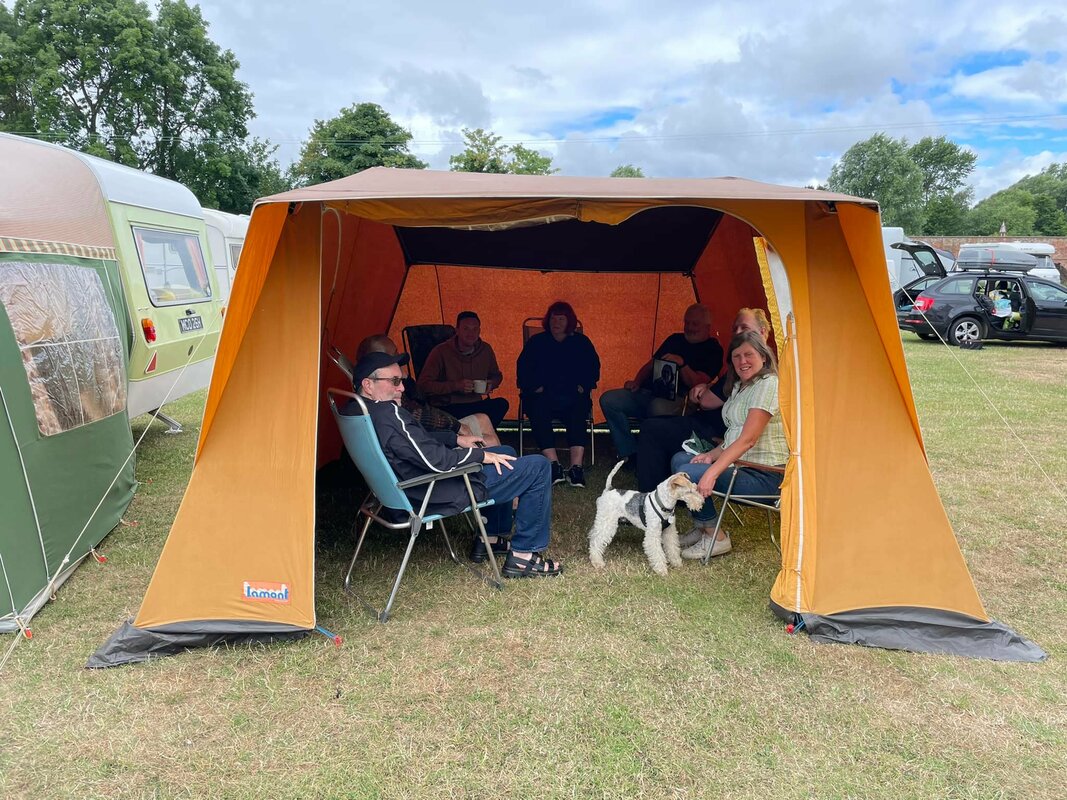 Prior to the AGM, we had another duty to perform. The incoming Committee had to meet to decide who was doing what for the coming year. So, comically, we all squeezed into Cam's tent and, with an audience sitting on camp chairs outside, had a quick discussion. I should point out at this point, that one of our number was at home suffering with Covid, so Lucy joined on a Facetime call – oh the joys of technology…
New Committee roles duly determined, we got on with enjoying the site and the area.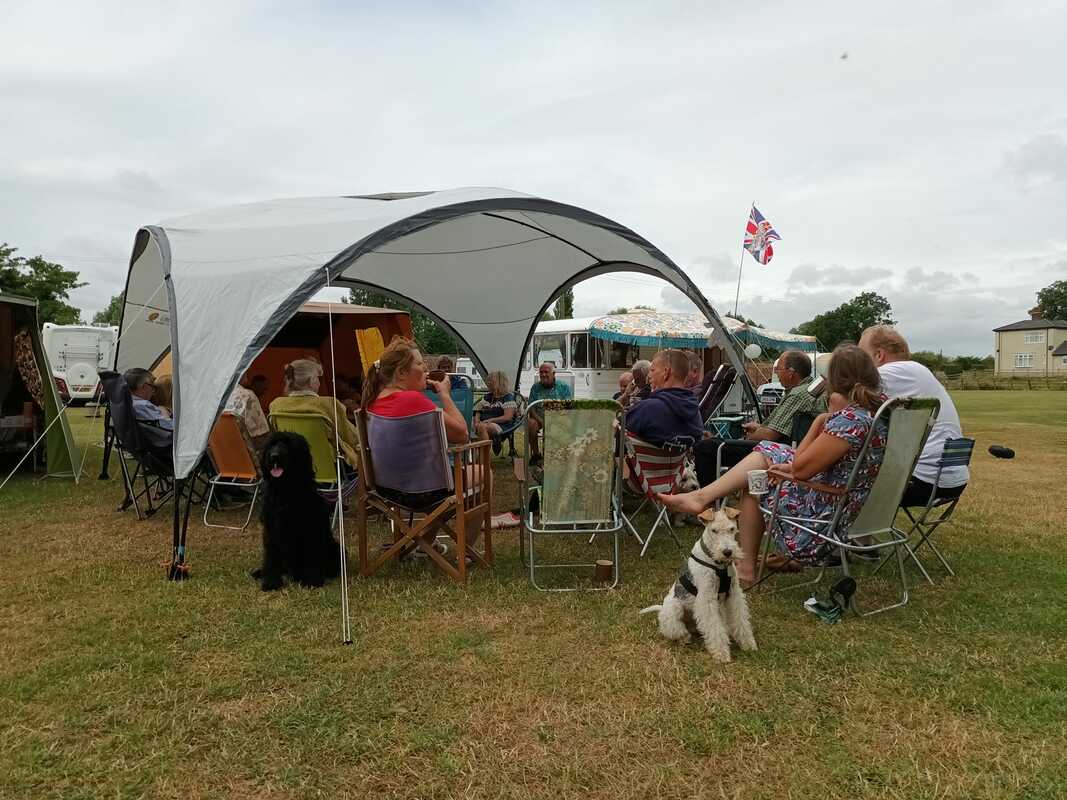 Next up, the Annual General Meeting. I have to confess to making a bit of a mess of the technology for this one. My apologies to everyone who wanted to join remotely, for reasons best known to Microsoft, the WebCast aspect did not trigger. Nor did my conference speaker – way too quiet. Not an auspicious start.

However, our two absent Committee members (Pam was also a Covid sufferer) did manage to join remotely so we were able to hold the AGM. The minutes are available online.
Not being lynched by a braying mob and taking this as a positive sign, the meeting concluded and we again, did our own thing.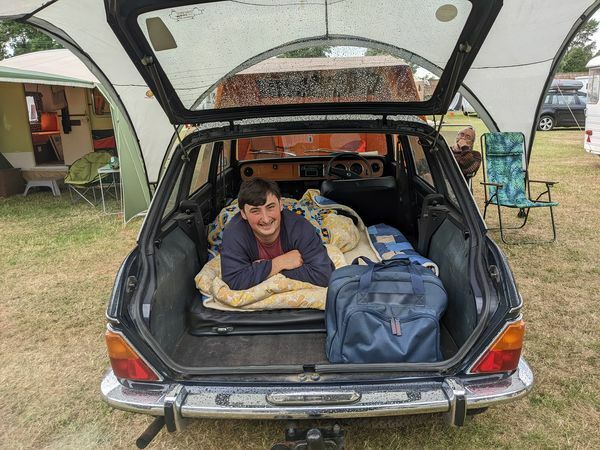 Part of this "own thing" involved our just departed Chair, who had decided to prove that "Yes, you can camp in just an Austin Maxi", also proving that you can fit one under an event shelter... See above, all you doubters out there!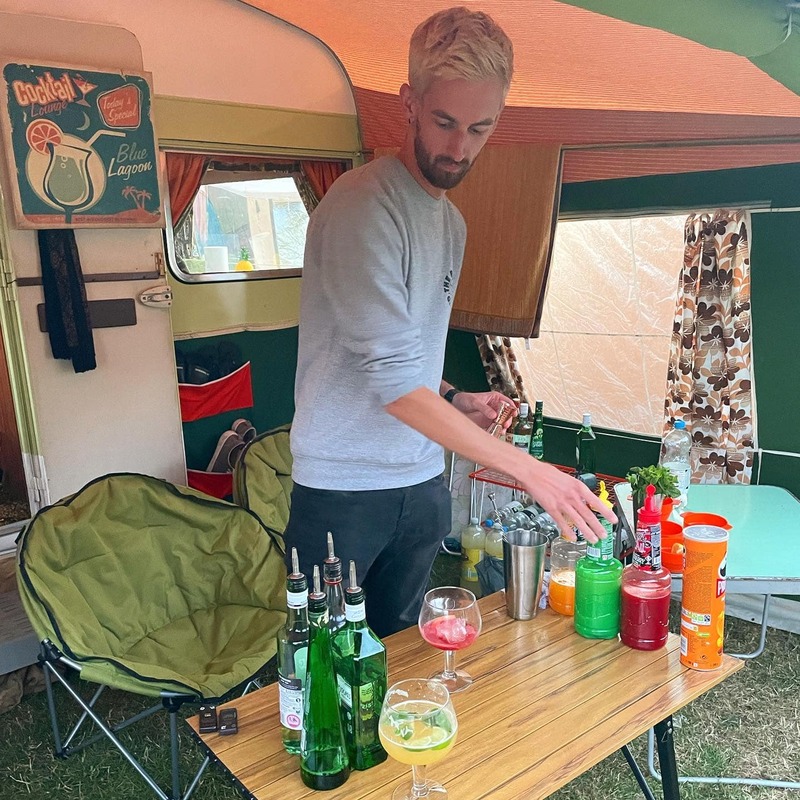 Saturday night and it's Cocktail Evening (good) and my quiz (hmmm…). The cocktails, expertly prepared by Chris, were fantastic. The heckling for my quiz was keen. The competition, when told that the prize was worth winning was intense.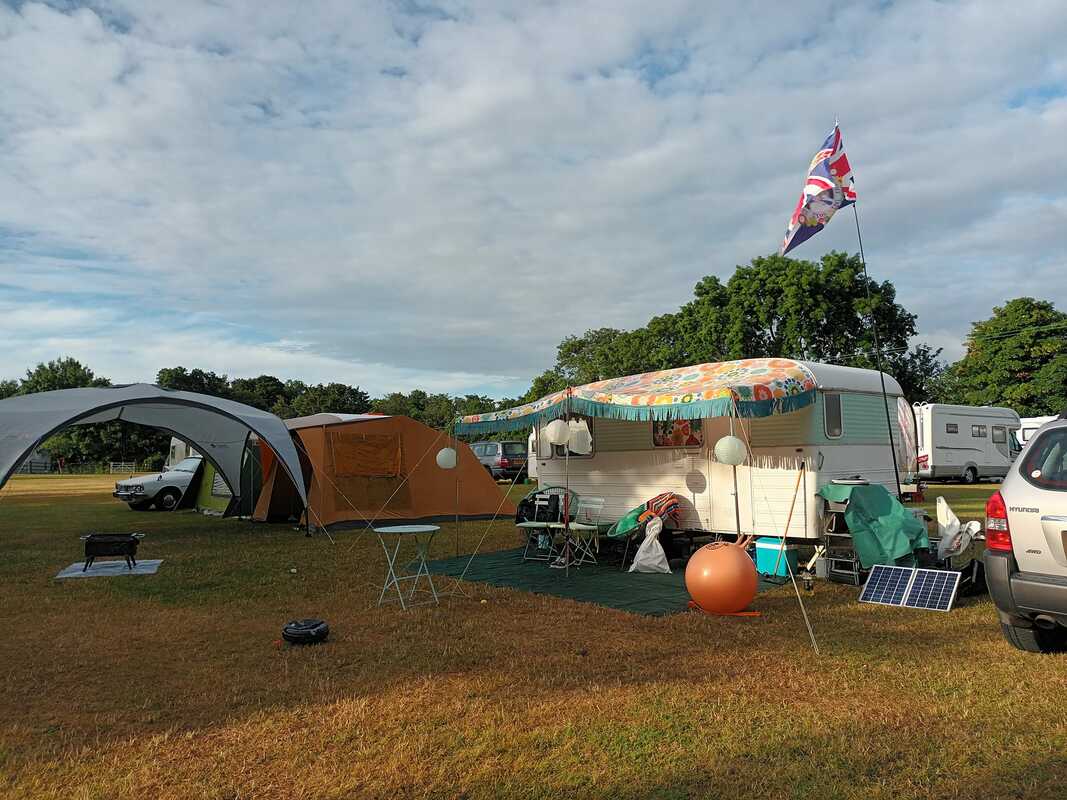 Most of the heckling seemed to be for the Downton Abbey round. Who hasn't watched Downton, I ask you? (Apparently all of the loud voices at the quiz). I'm not complaining… grumpy old men need to be grumpy old men – isn't that right Emmerson?
The quiz was eventually won by… well someone, anyway. We gave the prize to Angie and David – a battery operated planetarium for the inside of their caravan. They were delighted (and promised pictures).
I cannot find any photos of the night before, but the one above is the morning after. Many thanks (again) to Heather for her firepit.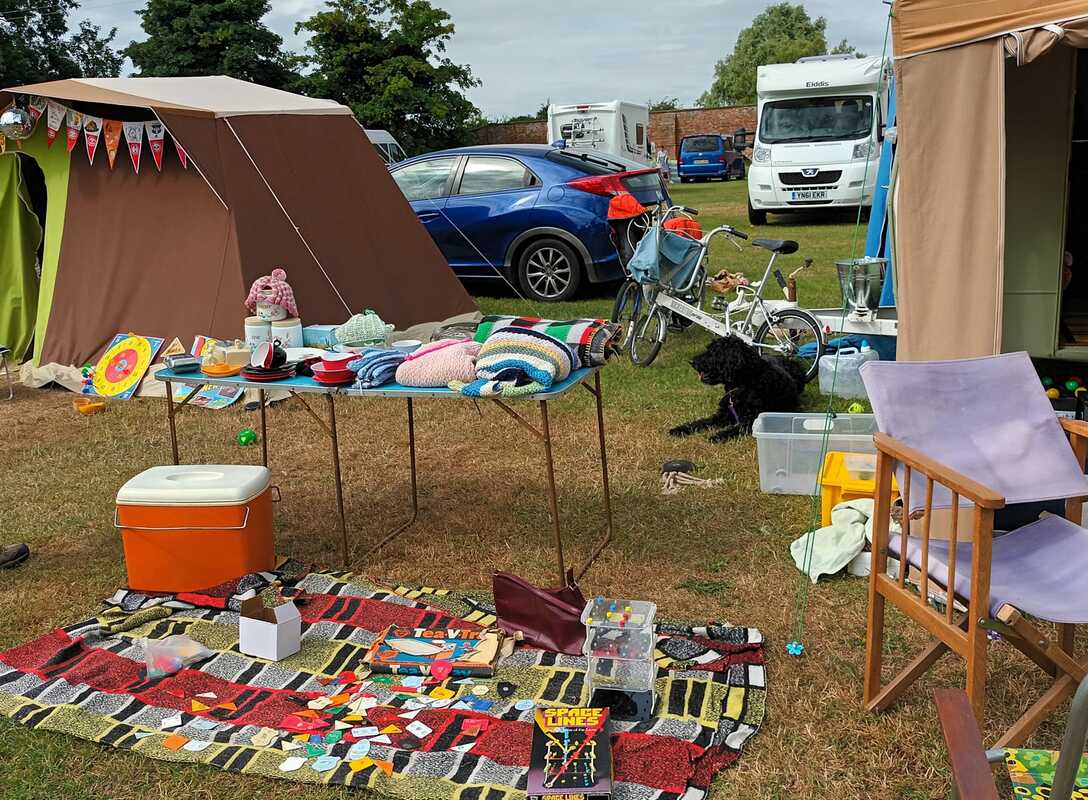 Sunday dawned and a well-attended and well-stocked bring and buy ensued.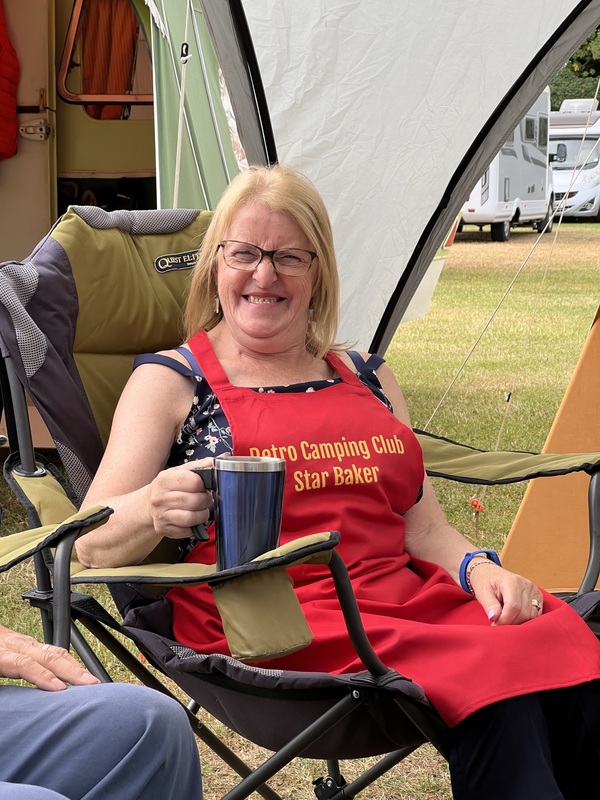 The coffee morning was under the event shelter again as the not forecast rain arrived again. There was strong competition for the bakery prize which was won by Marion with her lemon drizzle cake. (Note to competitors, it is worth playing to popular tastes). I understand that this is Marion's second win in a row, having taken the prize at Bagwell too!).
The rally bakery competitions are hotting up and the quality of entries is amazing! The photo shows her sporting her prize and her smug grin – well done!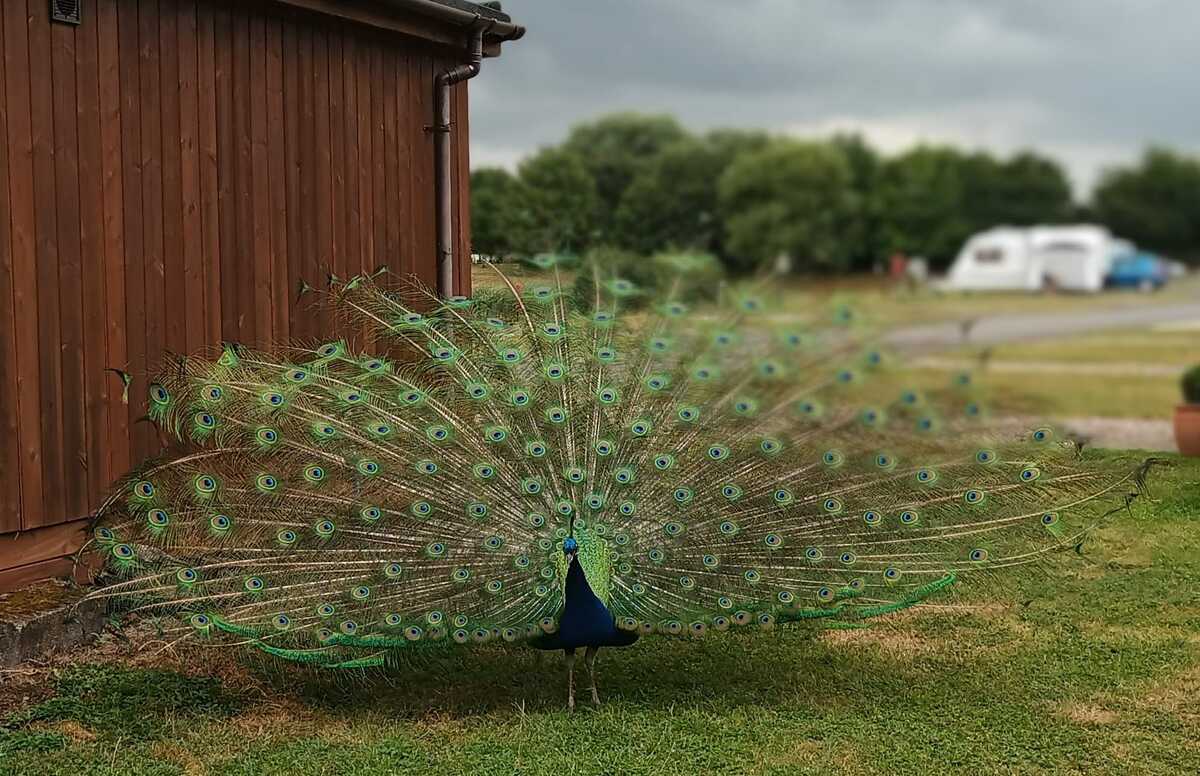 Attendees
Alasdair & Rob - 1990 Hymer B564
John Roberts - modern - parked round the corner
Cathy & Stuart Seng - 1975 Sprite Musketeer
James Mclean - Austin Maxi
Ben & Oliver - 1973 Cheltenham Oribi
Julie & Jayne - 1972 Blacks of Greenock tent
Angela & David - 1973 Sprite Alpine
Heather & John - 1976 Digue Coronette
Jamie & Richard - 1991 Hymer B534
Ian - "can't remember" old single person tent
Philip - 1978 Sprite Alpine
Chris & Chris - Royale f1475
Graham - 1979 Perle Orestes
Roy and Paula - modern - also parked round the corner
Emmerson - 1990 Swift Kontiki
Howard & Marion - 1971 Cheltenham Springbok
Martin - 1979 Royale Tourmaster
Karen - 1965 Sprite 400
John & Jenny - 1963 Cheltenham Waterbuck
Lynn and David - modern - yet again - round the corner
Cameron & Chris - 1966 Sprite 400