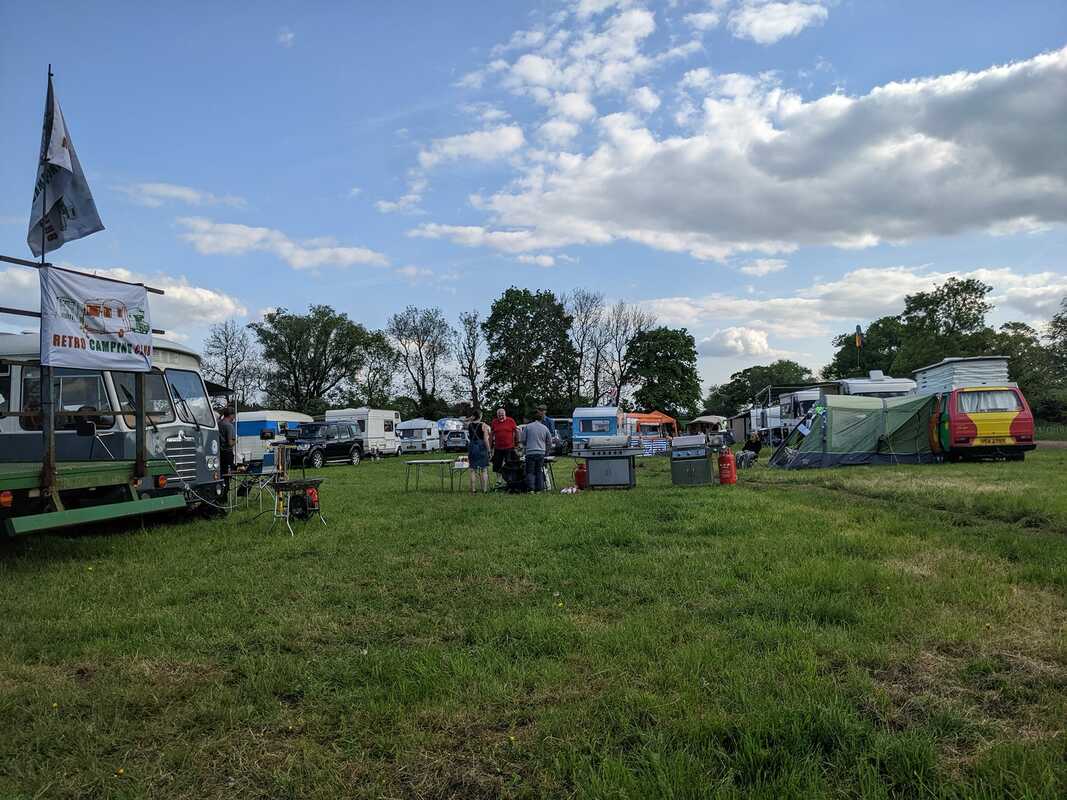 This rally would not have been possible without our amazing hosts, Peter and Cilla Radley, who went well beyond the call of duty to make us all welcome. They did not just supply the facilities but also the use of their swimming pool, tours of Peter's classic cars, classic car rides and their outstanding hospitality and support for the club.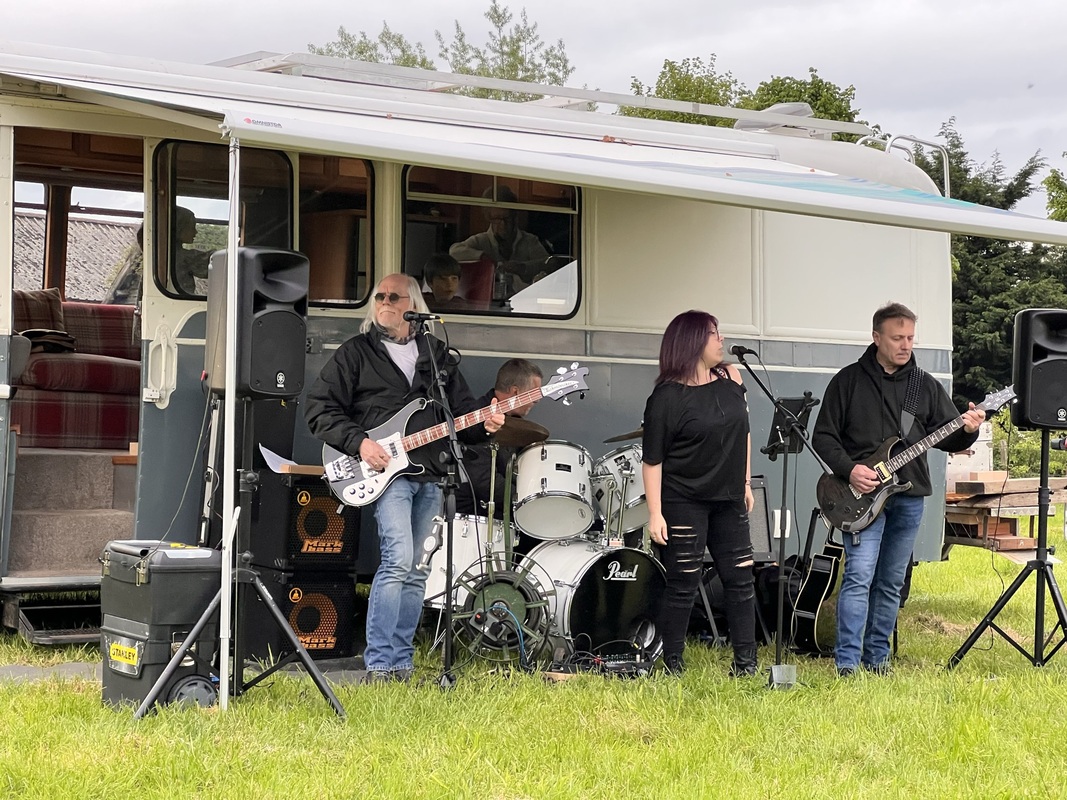 We should also credit the weather which meant we all spent much of the time sunbathing (sunburning), catching up with old friends and meeting new ones. We had no less than 7 new members and families attend this rally! I hope you all enjoyed yourselves and will be coming back for more.
We had a light shower on Friday evening when the wonderful band – Wye-Fi – were doing their second set. However, in the true spirit of the club and huge thanks to Roland Sherbourne*, they were able to carry on playing under his awning and the dancing continued with umbrellas!
* It should be noted that this was Roland's first-ever RCC rally which he turned up to in an amazing 1965 converted Bedford military bus along with his daughter's family in a poorly RMB motorhome, only to be volunteered for the honour of having the band play under his "umbrella".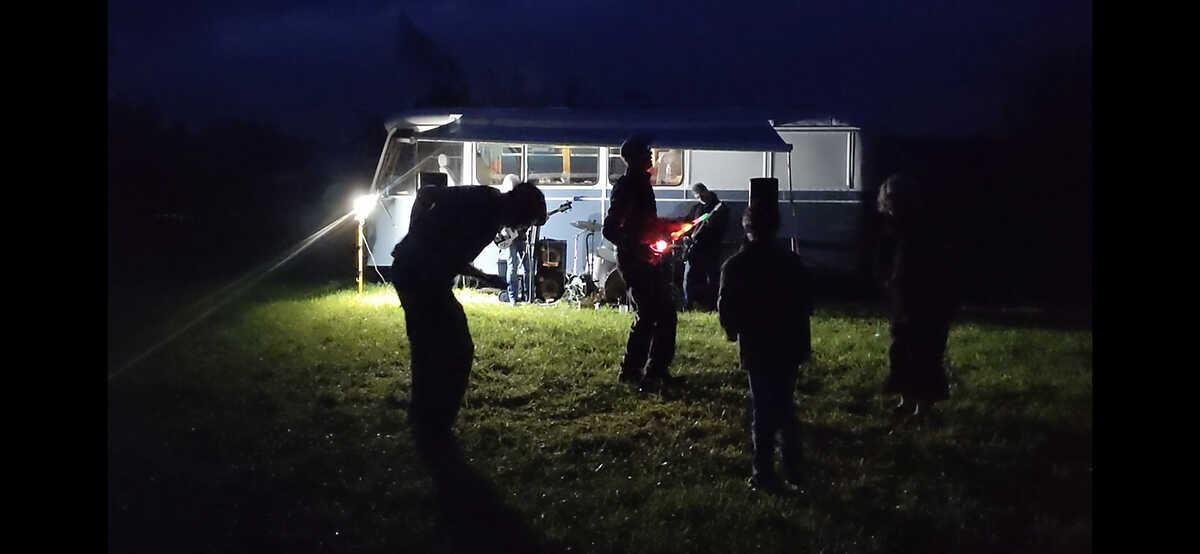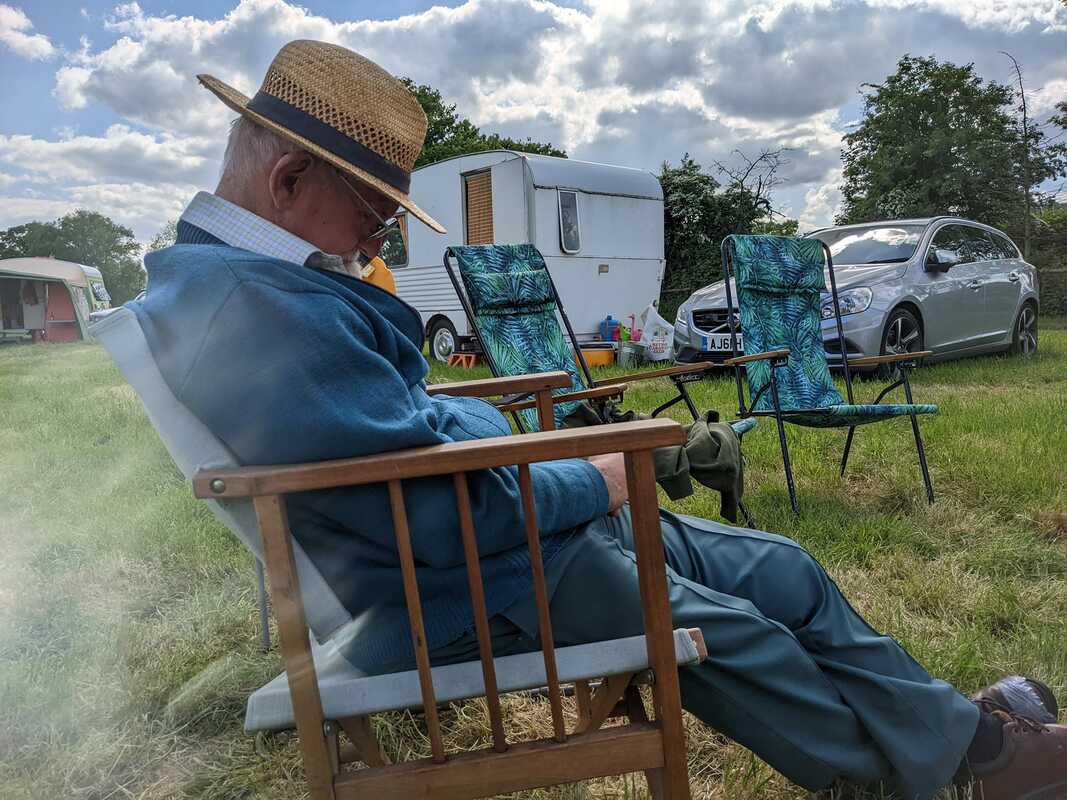 Saturday was another beautiful day; some went on long dog walks through the bluebell woods, some went to the nearby pub, and others to the local Littledean Jail Serial Killer museum (not for the faint-hearted). Most just sat around in the sunshine and set the world to rights! (Alternatively some just sat around...)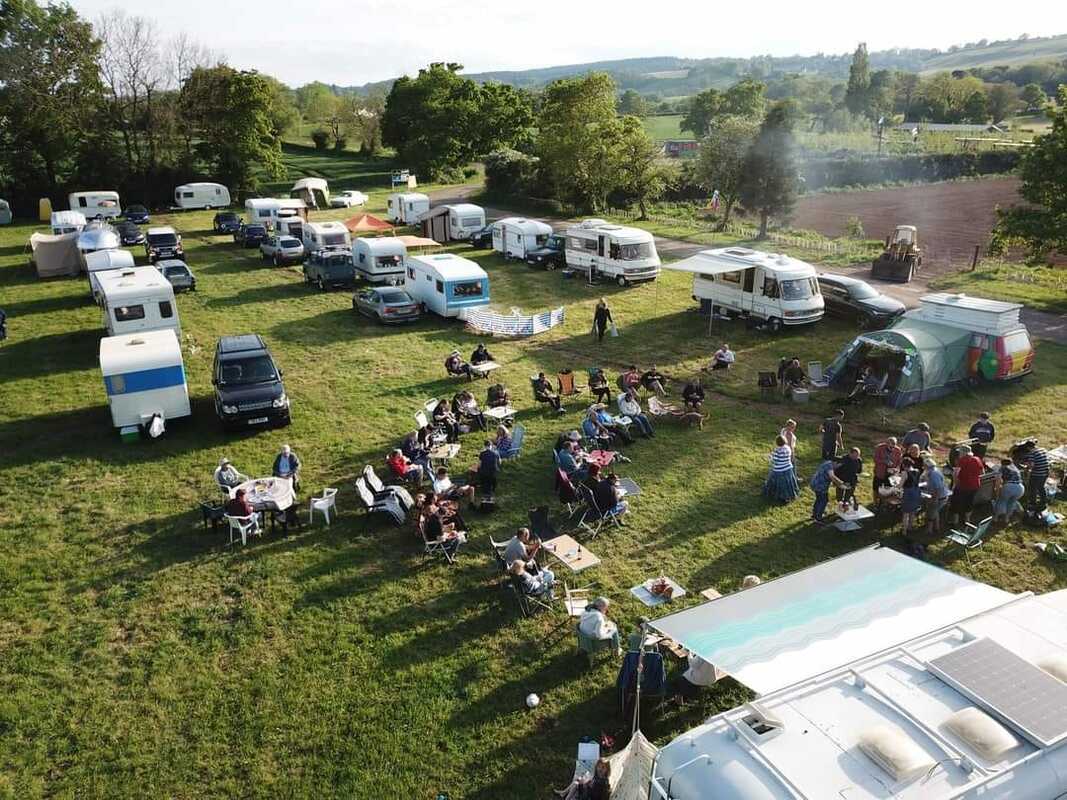 In the evening the Committee served a BBQ to all and once again, we gathered around fire pits chatting and listening to music well into the night (morning ed.).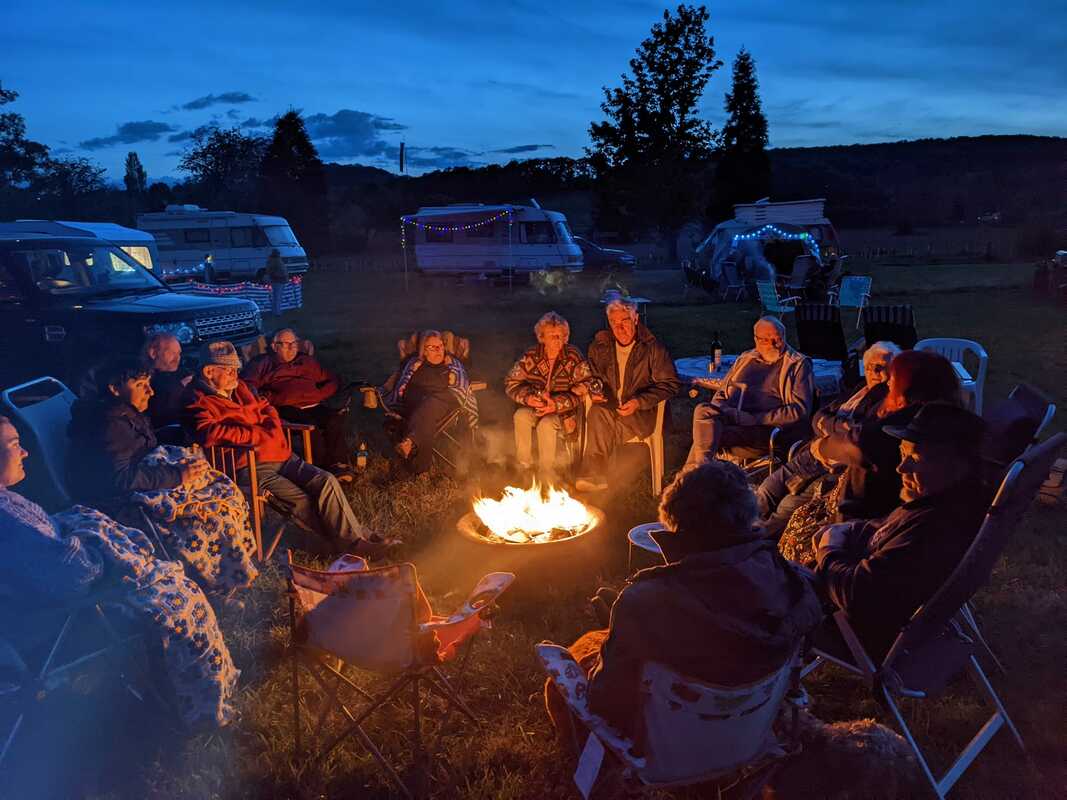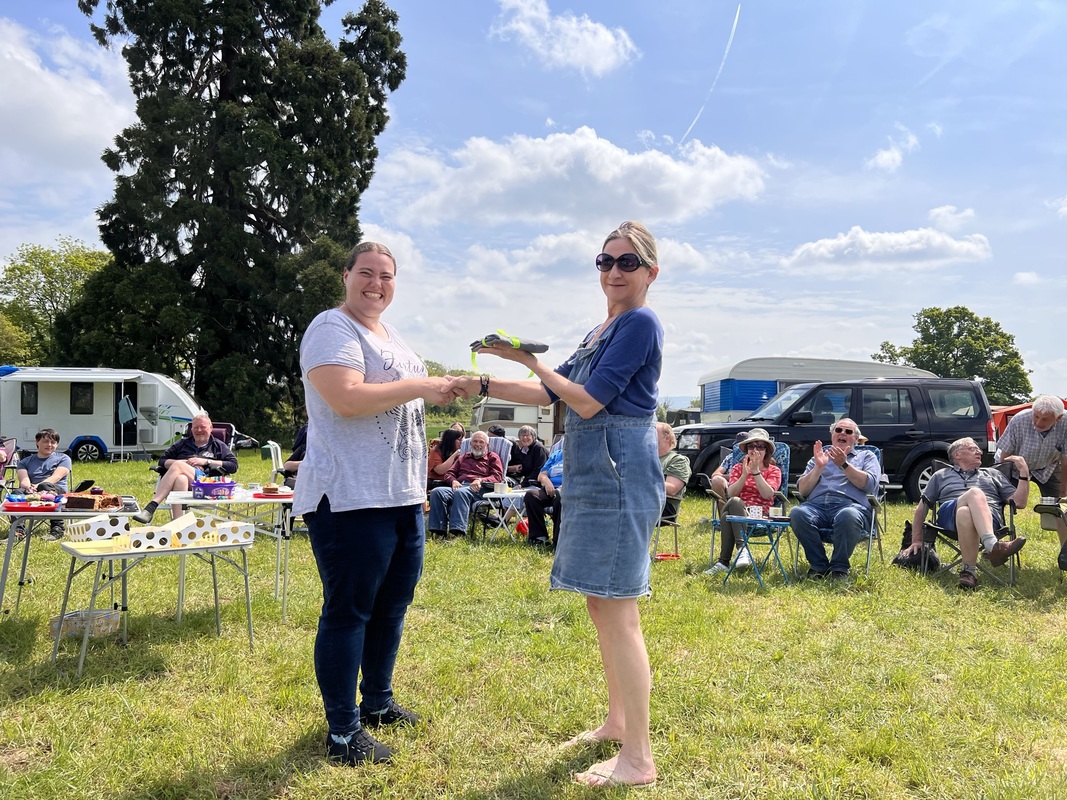 On Sunday, during the traditional "Coffee Morning", we judged the baking competition. There were some spectacular entries however, I was delighted to present our star baker – Rachel Sharp – with first prize for her gorgeous brownies.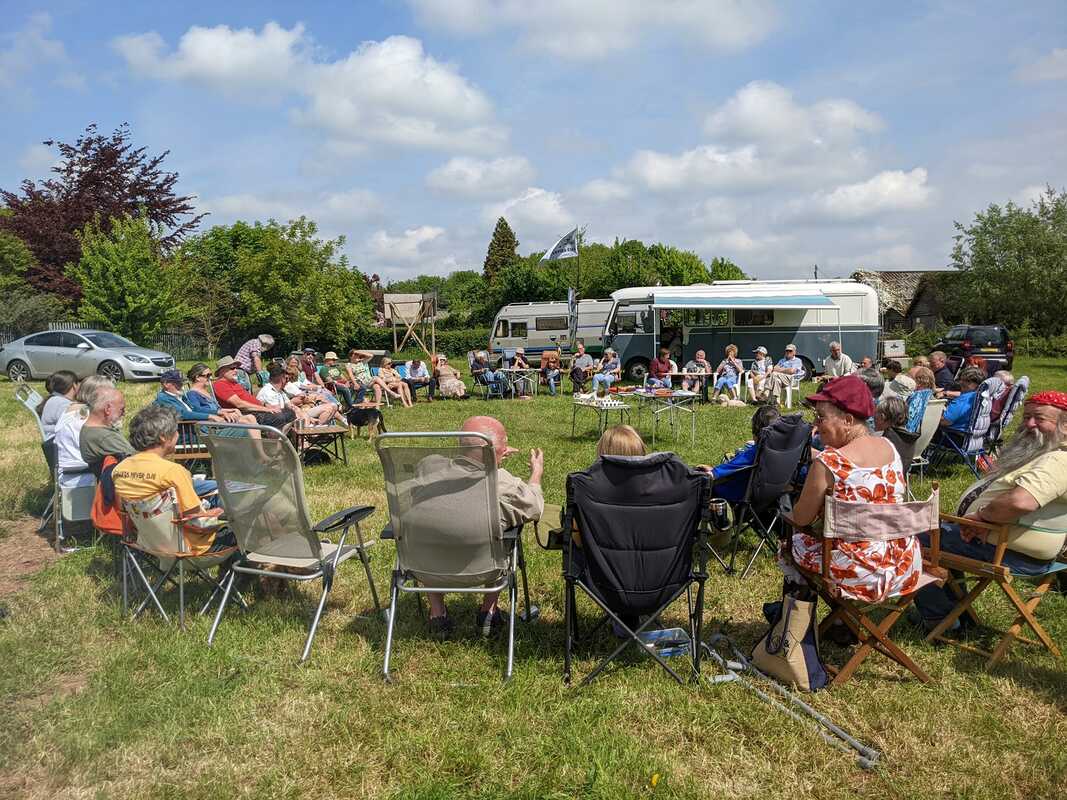 It is worth noting, should you choose to enter a similar competition in the future, that as the winner is decided by popular vote, having enough cake to feed as many people as possible is a definite factor to a successful entry. That said, in the author's opinion, had the "Sweet Pizza with Stuff On It" had more than four slices it would have been a much stronger contender – kudos to Ian Quarry for cooking it in a Coleman trailer tent onsite, however…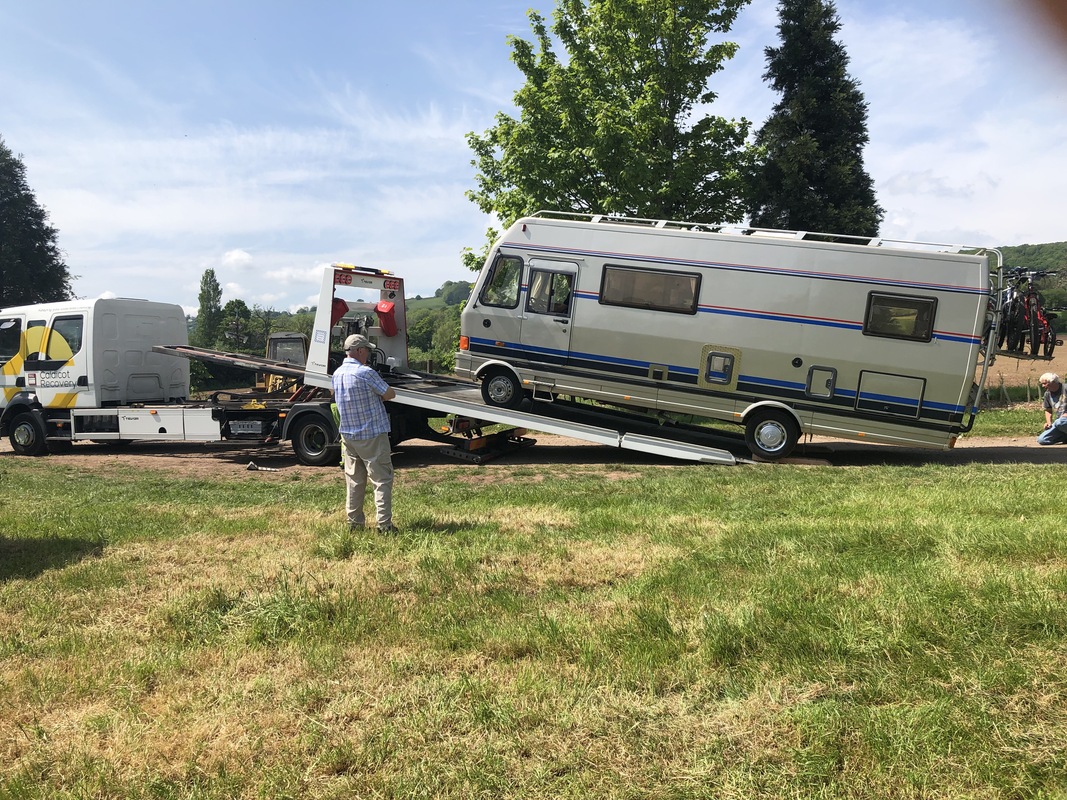 Casualties:
Sam Miles' RMB motorhome gear linkage failed en route to the rally – they were recovered on Sunday after much dancing and fun, and taken home on the back of a trailer.
Heather Downard's dignity took a dive, bounding around the field on a space hopper.
Feedback
Jackie (Lead singer from the band): "What a lovely, friendly group you all are".
Peter Radley: "You can't come back because you'll never top this weekend!" - That said that Peter would love us back and we have plans for another rally at Elton Farm in August 2023.

Please check the website for the rest of the rallies we have planned for 2022.

Thank you so much for coming and supporting the club. I can't wait to see you all again soon!

Best wishes,

Lucy and all the RCC Committee