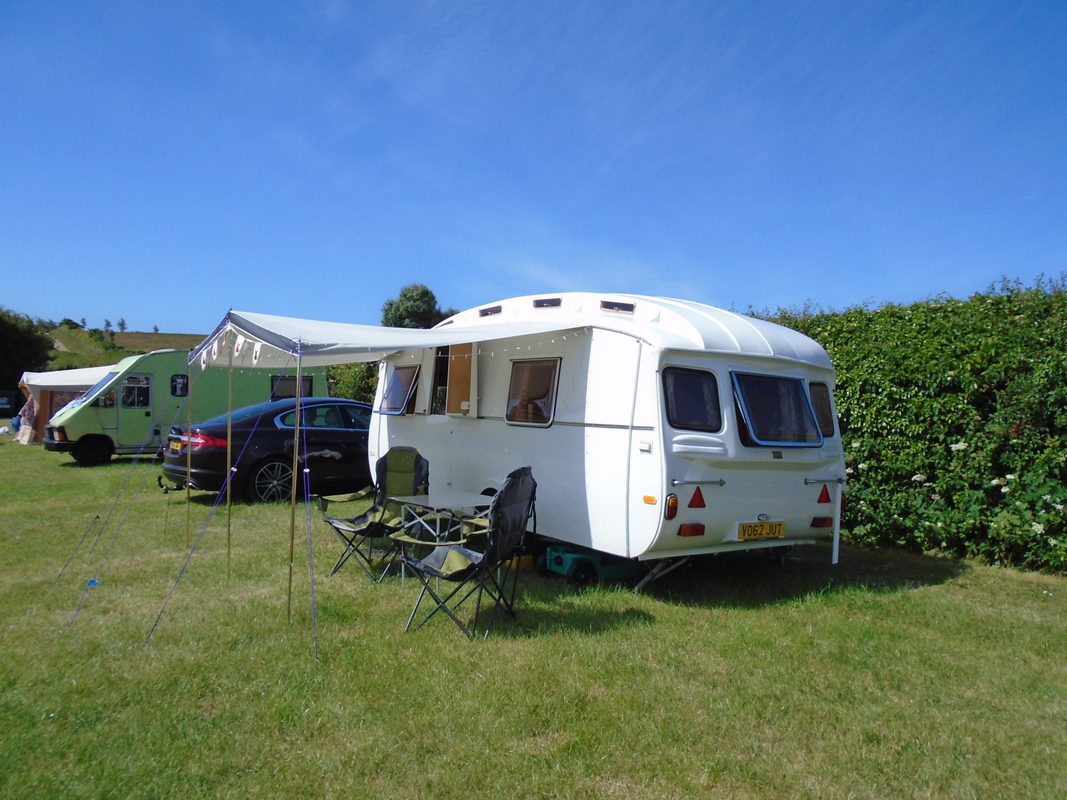 Bagwell Farm 'Summer Holiday' Rally June 2022
My Rally didn't start as I'd planned – My sis having a last-minute operation meant no chauffeur to get our DJ (my nephew) to Weymouth. We arrived though, early Thursday afternoon to be greeted by glorious weather - too good to last I thought, but no, it stayed that way until we left the following Wednesday. Marion and Howard with their stunning Cheltenham arrived a short time after us.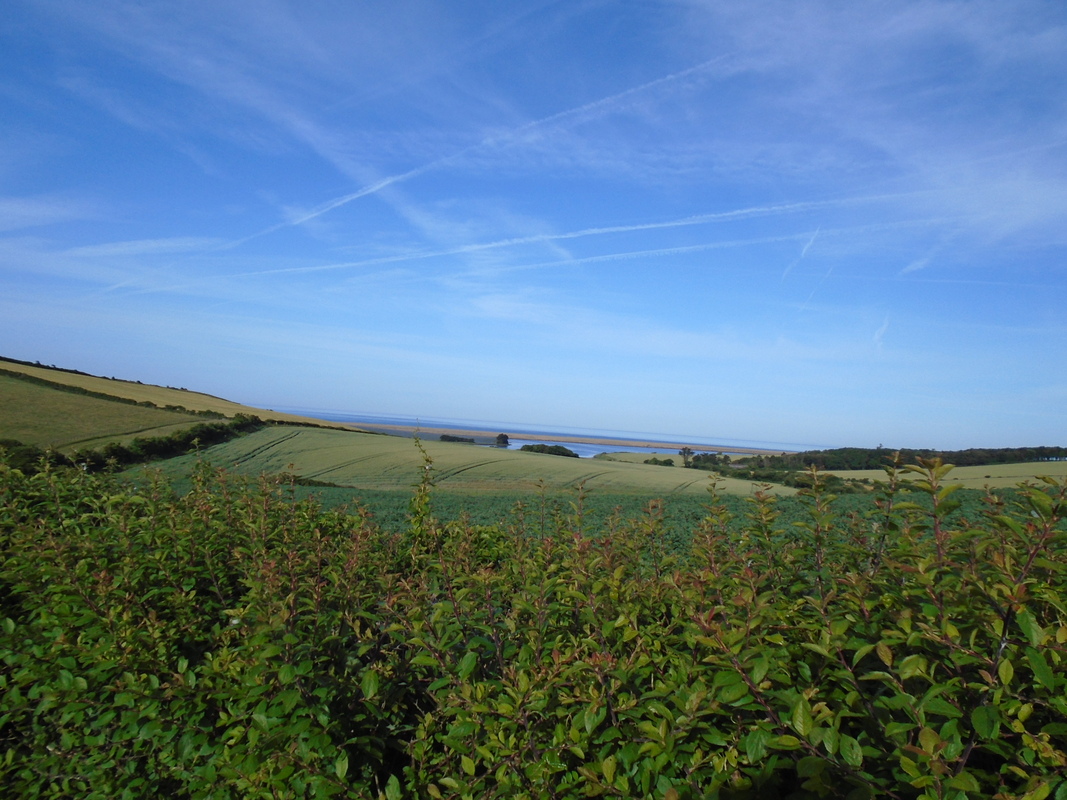 With only 11 units come final bookings, having lost a few along the way to illness and hospital appointments, this meant we had a whole beautiful rally field to ourselves. Nothing to temper our view of the countryside (it could have been 1960 if you closed your eyes). However, it was only a 2-minute walk down to the lovely modern toilets and showers and half that to get to the bar which served good food at decent prices.The site is only a 15-minute walk down to the coast path and the same up to a bus stop where you can get the bus into Weymouth or along the coast with lovely views along the way to West Bay.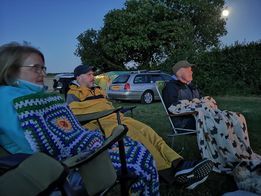 Friday night we had a silly quiz including a 'cops and cars' picture round which was fun, and a true/false round on places with rude names in which Howard and Marion absolutely smashed the 'dark horses of the weekend' award with a full 100% score. In fact with their run away success of equal firsts for them in the Sunday cake competition (and let's face it LIDL and Asda were never going to beat them) they were the most consistent across all disciplines (apart from Debbie for the wine drinking, only that wasn't being scored...).
On Saturday 20 odd of us piled into the little bar for breakfast. The staff were incredibly accommodating and served up a superb brekkie for not much money at all. Our funny camping anecdotes would make for good reading but I'm sure the staff weren't used to quite so much noise at 8.30am.
In the afternoon we had the Retro Olympics which basically gave us the chance to behave like children, badly behaved children at that. Though I must say certain of the crowd took this way too seriously (I even spotted a Team GB mug in one of the vans!). We had a three-legged race with real 70s shoe laces tying the competitors together. An egg and spoon slalom with rubber eggs (sky-high levels of cheating there). Space Hopper sprinting against the clock - that was highly competitive. My personal favourite was the welly chucking – a big thank you to Rupert for allowing his nice wellies to be abused in a way Mr Dunlop would never have envisaged. Early practice showed we needed to move our course to avoid hitting any of our vans, some impressive results.
The highlight of the event, if not the weekend was an appearance by a "sneaky thief". Kevin had gone off in the morning and had asked us to guard his tent. We scoffed at this as what could possibly happen with us all on-site? Nothing... not until somebody spotted a large seagull waltzing out of Kevin's tent without a care in the world dragging a family-sized pack of Doritos! Hilarity ensued as Mike and Rupert took off down the field trying to catch this avian felon (forever to be referred to as 'Stephen Seagull' as named by Rupert). "Stephen" managed to get just high enough with his prize to avoid them every time they got near. Our laughter could be heard at the toilet block! Needless to say the Man vs Seagull sprint is unlikely to ever be repeated so "Stephen" will forever hold that particular crown. He didn't get the prize though - the crisps were retrieved.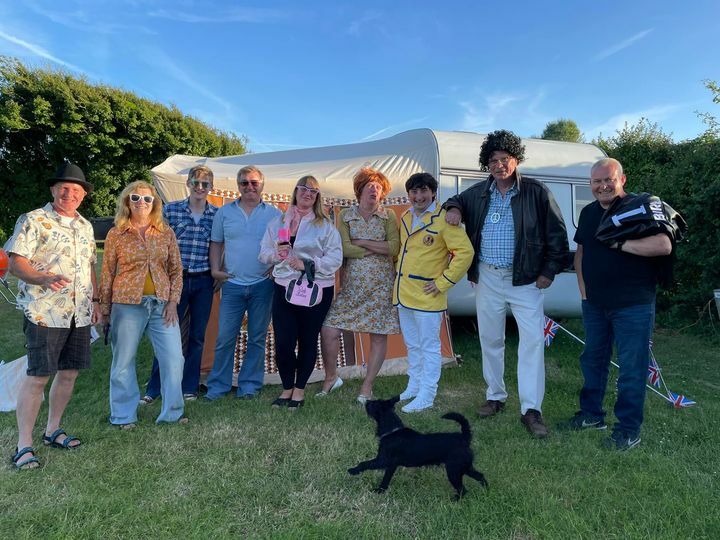 When we'd all recovered we held our own street party. It was maybe a week late but it was a good laugh made even better by fancy dress - yes my Cilla ended up more like Hilda Ogden but James in his Hi-De-Hi outfit stole that particular part of the show. Well done all, that went really well.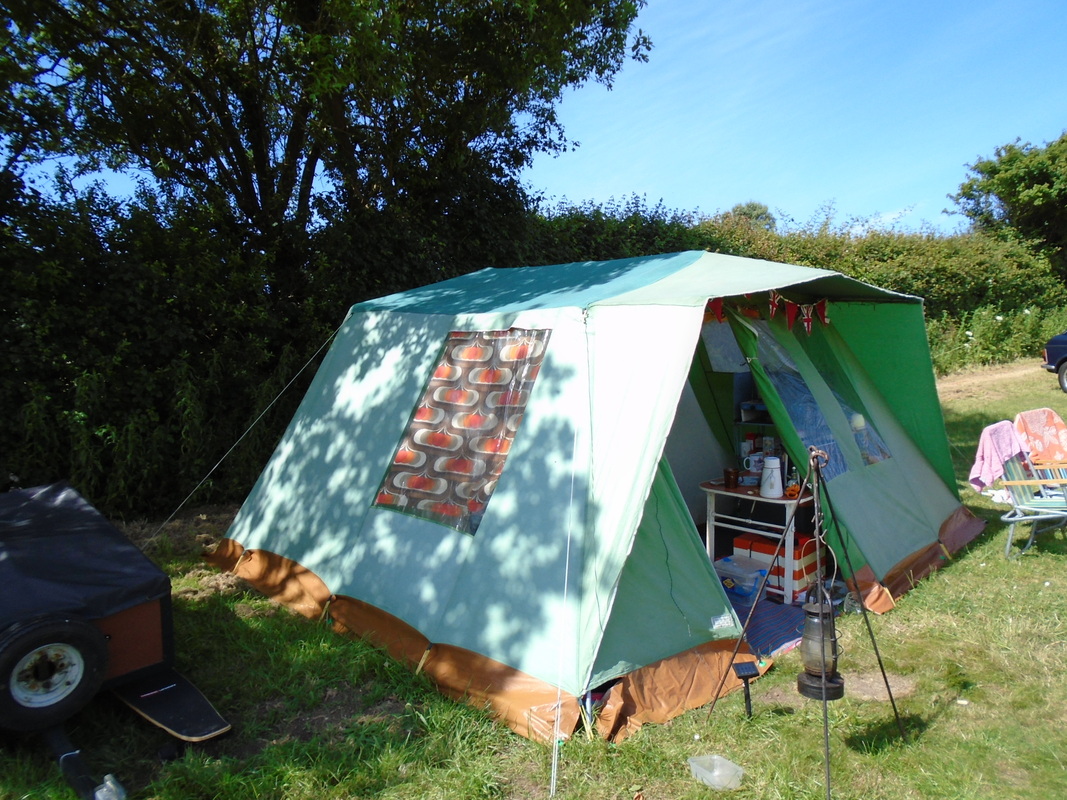 Notables over the weekend:- Kevin's fuel tank strap broke, a superb military style repair saw him back on the road and the repair holding good all the way home to Scotland.
Arthur's navigational error –Arthur set off at first light to longboard down the 'The Fleet' to do a spot of bass fishing on to find next to no water, he'd got the tides wrong. (I have a feeling Portland Harbour has its own tide which isn't the same as the tide out in the sea).
Nick had to return for another night with us after leaving but discovering a leak on his water tank, new washers were helpfully provided by the shop and the site handyman after some smooth talking by Alison.
We all had a really fantastic time, a great bunch of people who all joined in with the fun. We left best of friends and nobody wanted to go home. The lucky ones - Howard and Marion, Rupert and Alison, and Mike and I stayed almost a week. And oh, did the weather really shine on us? (Though I'm not sure if that was the sun or my awning and van curtains). We had pretty much non-stop blue skies. By the time we had finished our club breakfast on the Saturday morning, I'd already been asked if I could book again for next year. If I do, I have 48 weeks to think of something new (but retro of course) to entertain you all!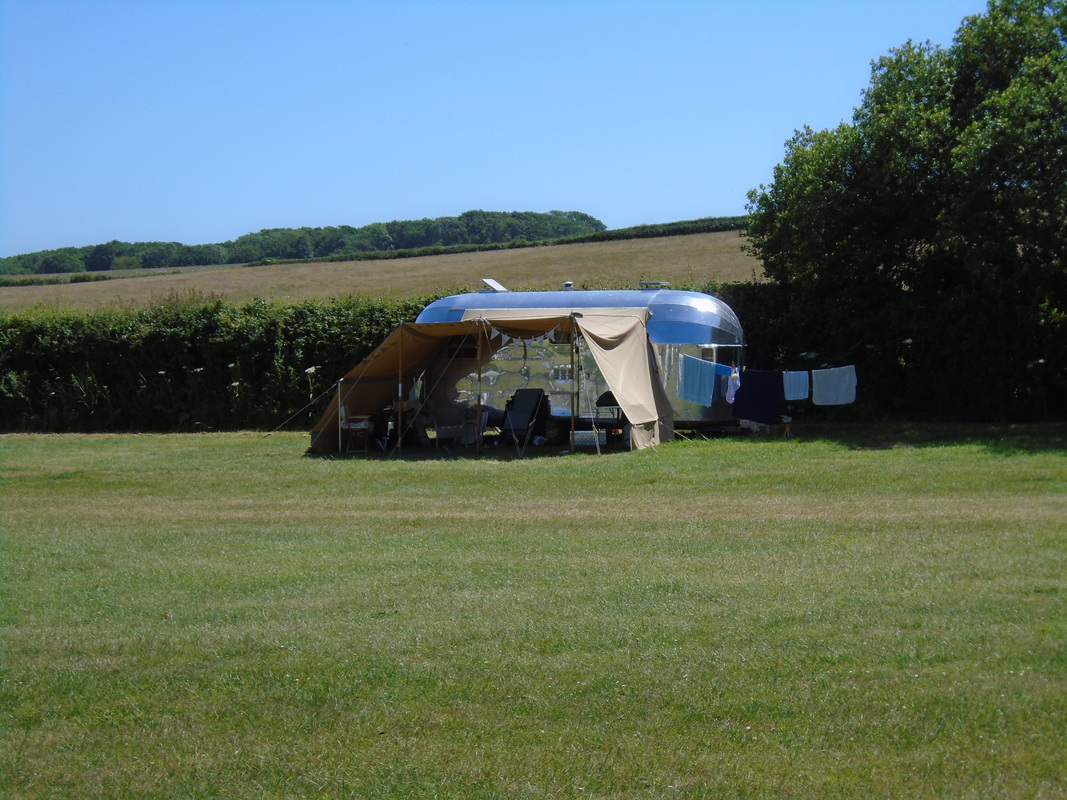 Attendees
Honoured to have the glorious Silver Streak from Shropshire and a lovely 70s tent from Scotland (though I'd be lying if I claimed Kevin had come just because of the rally, he was also visiting family)
Mike & Julie – 1977 Robin (with retina-searing 1977 Poulard awning)
Howard & Marion – Cheltenham Springbok
Rupert and Alison – 'Norman' the 1954 Silver Streak Clipper
Kevin & Arthur – 1970s Blacks of Greenock tent
Debbie (all the way down the hill from Weymouth) – Eriba Puck
Yolande, Charlie & Jamie - Eriba
James – Sprite 400 and Austin Maxi
Chris – Sprite Alpine
Nick & Anne – 1987 Renault Traffic Hymer
Tracie & Paul – debut rally for the Cosalt Piper 1000T
Jayne & Ben - Ace Airstream